Interview with the United States Secretary of Commerce Gina Raimondo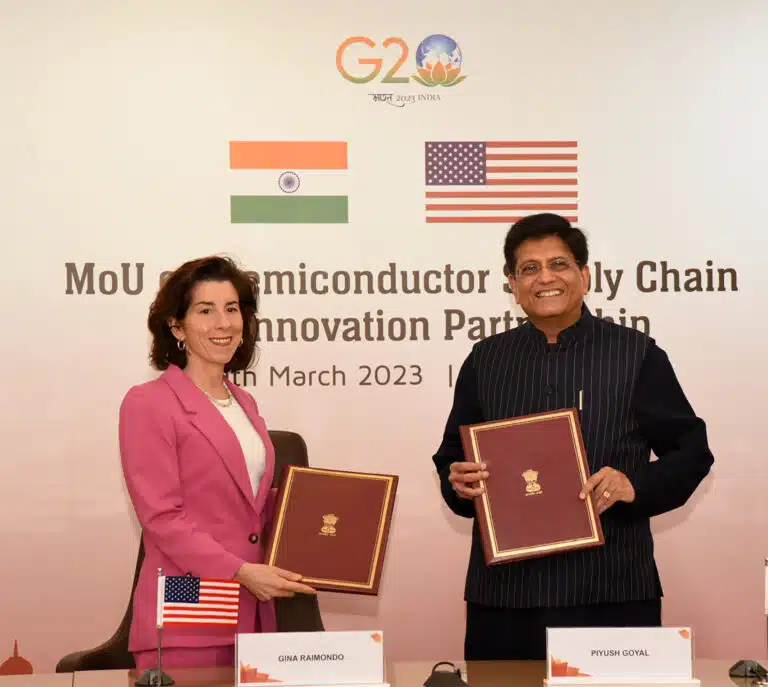 "We know we won't be successful in semiconductor manufacturing and R&D on our own, so we are focused on coordinating with our allies and partners, including India"
The United States Secretary of Commerce Gina Raimondo has been at the forefront of a new vision of trade that incorporates strong doses of industrial policy and geopolitics. She has made the case at home and abroad how today trade and investment, especially in critical and emerging sectors, has to about trusted partners and secure supply chains. But it is also about collaborating with countries like India, which is why she is visiting New Delhi this month.
Secretary Gina Raimondo, in conversation with Quad+ editor, Pramit Pal Chaudhuri, shares her thoughts on the importance of the US-India relationship in an era of technological contestation.
Q: You are traveling with a group of US CEOs to New Delhi in March. How do you view the US-India relationship, and what do you hope to achieve on your trip?
A: This is an optimistic time for India and an optimistic time for US-India relations. In the lead up to my trip, I have spent a lot of time speaking with US CEOs about their businesses in India and there is a consistent theme of opportunity. The policies and investments that the Indian government is making line up with a macroeconomic and geopolitical moment that promises to create significant growth.
The United States government and US firms want to be trusted partners in that growth. That's really what my trip is about and it's why I am coming with a group of leading US CEOs committed to working together with the Indian business community to realize this opportunity.
While we are here, we will convene the US-India CEO Forum. I will also lead the US India Commercial Dialogue with the Minister of Commerce and Industry Piyush Goyal. I look forward to our discussions where we are currently exploring collaboration opportunities, including semiconductors, supply chains, and technology.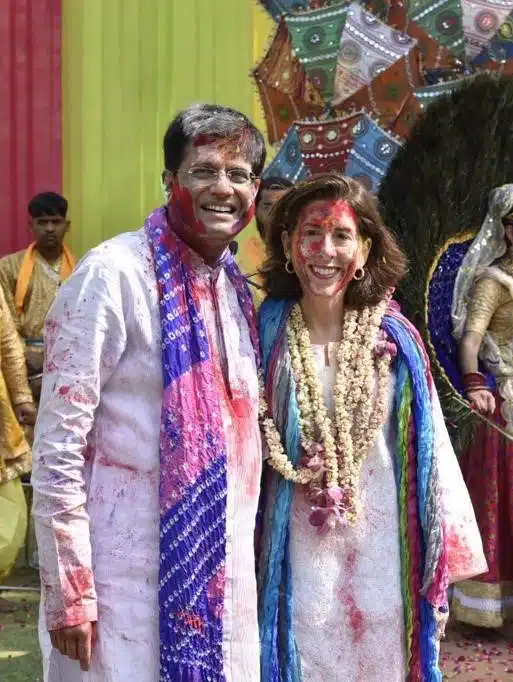 Q: Madam Secretary, you have been among the leading official US voices stressing the importance of technology in contemporary geopolitics. Can you explain why this is more important today than it was in previously?
A: Technology has always been critical to our national and economic security. Today, the stakes are even higher as countries around the world have become reliant on a handful of key foundational technologies. Take semiconductors, for example. In 2021, car prices increased nearly 30% and were responsible for a third of core inflation—all because we didn't have enough semiconductors. Due to the chip shortage, there was product scarcity in a number of key industries, including vehicles, medical devices, appliances, and consumer electronics.
That's why we are making generational investments in the semiconductor industry through the CHIPS and Science Act. We are investing over $50 billion in semiconductor production and R&D. But we know we won't be successful in this on our own, so we are focused on coordinating with our allies and partners, including India. This collaboration on technology in general, and semiconductors in particular, is a major focal point of my trip.
Q: What are the Quad's main accomplishments, and what would be your vision of what it looks like in the future?
A: I had the opportunity to attend the first in-person Quad Summit in September 2021 with President Joe Biden and Secretary of State Tony Blinken. It was a historical event and an opportunity to recommit to our partnership with a region that is a bedrock of our shared security and prosperity.
Since the start of the Biden-Harris Administration, Quad leaders have set forth an increasingly ambitious agenda and continue to actively address some of the region's most important challenges, such as Covid-19 vaccine assistance, economic recovery from the pandemic, the impact of climate change, the provision of humanitarian assistance and disaster relief, securing and advancing critical and emerging technologies, cooperation on infrastructure building, and more. 
Some of our most significant work with Quad partners has been in the area of critical and emerging technologies (CET), where we have an opportunity to work together with India, Japan, and Australia, to ensure that technology is designed, developed, governed, and used in ways that reflect our shared values and respect for universal human rights.
Technology areas that are integral to our everyday lives — such as AI, 5G/6G communications, and biotechnology — will have a profound impact on our society and the underpinning technology standards will enable technology that is safe, universal, and interoperable.
Within the Quad, we are focused on both emerging technology and technology standards. We have collectively affirmed our shared support for standards that are based on technical merit and are led by the private sector in partnership with government, versus driven by individual governments and their industrial policies.
We have made significant strides in the last year, collaborating in advanced communications and artificial intelligence, and coordinating on prominent leadership elections in standards bodies such as the International Telecommunications Union (ITU). And we are jointly developing a set of principles that will reaffirm that technology standards are an integral part of this technology ecosystem, are driven and supported by the private sector, and ultimately support innovation and enable global trade.
Q: How do you see the accomplishments of new bodies of international cooperation the United States is supporting in the region?
A: I am especially proud of what we are accomplishing through the Indo-Pacific Economic Framework, or IPEF, which President Biden launched in May 2022 and includes 13 regional partners, representing 40% of the global GDP. IPEF sets an affirmative vision for economic cooperation across the region and provides solutions for addressing the major challenges of the 21st century, including digital transformation, supply chain resilience, a clean energy transition, and strengthened anticorruption efforts. We hear over and over again in the Indo-Pacific region that there is a strong desire for US economic engagement along with a positive vision and agenda. Our business community is also tells us that they and their employees here in the United States will benefit from restored US economic leadership in the region.
We are pursuing new approaches to addressing critical economic issues. It's an important opportunity to be creative and to make our markets more attractive at a time make our markets more attractive when global businesses are looking for new places to manufacture and grow. Together, we are creating a roadmap for cooperation and aligning objectives to meet our economic goals for our workers, our businesses, and our communities. Our success will fuel economic activity and investment throughout the region. India is a vital partner in this work. I have been working closely with Minister Goyal throughout this process. And I grateful to him and his team for recently hosting an IPEF negotiating round on pillars II-IV in Delhi. Continued leadership from India will be critical to IPEF success.
Q: The US, Japan, India, and the European Union have similar high-end industrial policies. While these are often driven by a desire to address current and future geopolitical threats, these policies can also serve to undermine the economies of each other. Is there a conflict between these national policies and the larger geopolitical goal of these countries?
A: The United States is making once-in-a-generation, transformational investments needed to revitalize our infrastructure, ensure a green transition, and create resilient supply chains to the benefit of the US and our friends and allies. As we do so, it is critical that we avoid a race to the bottom with our trading partners. We know that we cannot make everything here in the United States, nor should we.
That is why in so many conversations about the resilience and security of our global supply chains, we talk about coordinating with like-minded countries and "friend-shoring." Whether it is semiconductor manufacturing or meeting the challenges of the climate transition, we are working to coordinate with our trading partners to avoid subsidy races that leave all of our supply chains less resilient and secure.
Q: You have spoken about the need for the US to churn out engineers and scientists to take on shared challenges. But the United States already imports large numbers of students and workers from India. As India's youth population becomes the world's largest, is synergy possible here?
A: Talent is absolutely key to our strategy to being competitive in the global economy. Whether that's tapping into America's underrepresented communities to leverage the strength of our diversity or serving as a welcoming destination for attracting talent from abroad, we are working hard to make sure that talented people can unlock their potential and thrive in the education and innovation ecosystem here in the United States.
Through initiatives like the Education and Skills Working Group, which Secretary Blinken and Minister S. Jaishankar agreed to at last year's 2+2 Ministerial, and the Quad Fellows Program, we are actively looking for ways to expand research, cooperation, and programs between U.S. and Indian educational institutions, academics, and researchers.